About Bernhard Plank and Fotos als Kunstwerk | photoart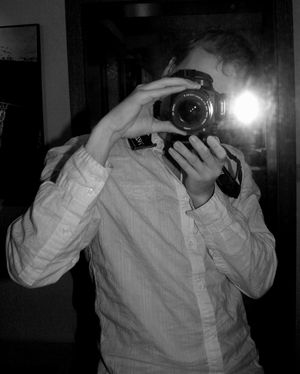 Hallo everybody out there. First i will thank you for visiting my Photoblog, i hope you enjoyed it. As next, i will refer to my
Webpage
, where you can find many informations abput photography. For example you can Read a making of "How to make Waterdrop pics", reviews and so on. The whole Webpage is on German.
Lets start throug with real "About me". It is not easy to describe myself, but i will try my best and keep short. My name is
Bernhard Plank
, I am a 24 year old (or young?) guy born in Linz witch is in Upper Austria. English is a foreign language for me, so I hope, everything is understandable. I am grown up in Marchtrenk where i still living the most of my time. My
dad (Reinhold Plank)
is definitely my biggest mentor and the reason why i started with photography. I startet taking photos about 15 years ago and my interest in photos never lost. Since the age of digital-photography i started again with photography and looking for my own style.
Photography is "just" a hobby of me, job-related I am a technical engineer. Currently i study at the Upper Austria University of Applied Sciences in Wels (Upper Austria) "Material und Verarbeitungstechnik - Material:Engneering" with the main focus of metal-materials. This summer i will finish my thesis with the german title "Diplom-Ingeneur (FH)"
Update:
I have finished my academic studies and now I am working at the "FH OOe Forschung & Entwicklungs GmbH" as an Research Associate for non-destructive Testing on the industrial computer tomograph in Wels.
Contact and Impressum
That was it, for more information about me or other things, just send me a message via the
Contact-Form or bzw.
Impressum of my pages
.
---
Equipment
My Equipment
Canon EOS 450D
- Canon objektive EF 100mm 2.8 Macro USM
- Canon EF 100-400mm f/4.5-5.6 L IS USM
- Canon EF 50mm f/1.8 II
- Canon objektive EF-S 18-55mm 3.5-5.6 IS
- Canon objektive EF-S 55-250mm 1:4-5.6 IS
- Canon Speedlite 430EX II
- 2 x Slave Flash, ...
- ..


More Equipment:
Leica D-Lux 3
Canon EOS 350D
- Canon objektive EF-S 18-55mm 3.5-5.6
- Leica objektive Leica APO-Macro-Elmarit-A 1:2.8/100
- Leica objektive Leica Elpro 1:2-1:1 for A 2.8/100 converter
Stative, etc...
Visit my Webpage to read more about me and my photography, making of... and reviews (but only on German) "Photography and more by leetsil"


---
Top 10 Visitors with the most comments on this photoblog:
Ideales Wander- und Bergwetter in ├ľsterreich!
Eine wundersch├Âne Landschaft Bernhard und fantastisch fotografiert.

Viele Gr├╝├če

Rolf

Around 9 years ago
Drohende Klaenge erfuellen den Raum...
Tolle Aufnahme Bernhard, w├Ąre bestimmt auch in Farbe interessant.

Viele Gr├╝├če

Rolf

Around 9 years ago
Wilde Tiere: Nilkrokodil
Na, der muss wohl nicht zum Zahnarzt ;-)

Klasse Aufnahme ist Dir gelungen.

Ciao

Rolf

Around 9 years ago
Frohe Ostern...
Danke Bernhard, ich w├╝nsche Dir auch ein frohes Osterfest.

Viele Gr├╝├če

Rolf

Around 10 years ago
Der Fruehling hat begonnen und rechtzeitig vor Ostern kehrt wieder Farbe ein.
Tolle Komposition Bernhard und die Reduzierung auf zwei Farben gef├Ąllt mir.

Viele Gr├╝├če

Rolf

Around 10 years ago
Zerbrochenes (Osterei)-Ei: Uebung macht den Meister
Oh, noch nicht mal gekocht aber schon blau ;-)

Sch├Âne Idee und Komposition.

Viele Gr├╝├če

Rolf

Around 10 years ago
Landschaften: Umrisse und Konturen im Nebel!
Sch├Âne Tiefenstaffelung durch den Nebel und die verschiedenen Horizonte.

Viele Gr├╝├če

Rolf

Around 10 years ago
Gelb-Orange: Farbentrichter
Sieht ja stark aus. Gute Idee, zwei Aufnahmen zu kombinieren.

Viele Gr├╝├če

Rolf

Around 10 years ago
Klivie zum Valentinstag - Es gibt also doch noch Blumen
Oh, eine tolle Kollage und prima Idee.

Ciao

Rolf

Around 10 years ago
Makroaufnahmen im Winter: Eine Leiter aus Eis
Starke Aufnahme, das gef├Ąllt mir.

Ciao

Rolf

Around 10 years ago
Wien - Vereinte Nationen (UNO) | Hier spiegelt sich die ganze Welt - Weltspiegel!
Deine Aufnahme bietet eine tolle grafische Wirkung, durch die Spiegelung der Wolken erfolgt eine gewisse Auflockerung.

Viele Gr├╝├če

Rolf

Around 10 years ago
Prosit 2009 - Ich wuensche allen ein Gutes NEUES JAHR ! ! !
Danke, Dir auch alles Gute f├╝r 2009!

Around 10 years ago
Reflektierende Fasade - Donauturm im Saturn-Tower
Die durch die Spiegelung entstandene Verzerrung gef├Ąllt mir sehr gut. Macht das Motiv interessant.

Viele Gr├╝├če

Rolf

Around 10 years ago
Das h├Âchste Geb├Ąude von ├ľsterreich - Millenium Tower (Wien)
Interessante Perspektive, klasse gemacht mit der Diagonalen.

Tsch├╝ss

Rolf

Around 10 years ago
Spiegelungen in gelb und rot
Saubere Linienf├╝hrung, das "hat was".

Ciao

Rolf

Around 10 years ago
HDRI: Ein grosses Wuerfelspiel oder doch nur ein Hochhaus in Wels?
Ich w├╝rde sagen, ein zusammengew├╝rfeltes Hochhaus ;-)

Die Aufnahme ist top!

Viele Gr├╝├če

Rolf

Around 10 years ago
Durch das Fenster auf Barcelona blickend...
Ein interessanter "Durchblick", gef├Ąllt mir.

Viele Gr├╝├če

Rolf

Around 10 years ago
Wellen des Meeres...
Also sooo Unscharf finde ich das jetzt gar nicht, Wasser darf ja ruhig etwas Bewegung zeigen.

Der Bildschnitt ist jedenfalls super (Diagonale),

viele Gr├╝├če

Rolf

Around 10 years ago
Krokus im Regen
Klasse Bernhard, das (englische) Feed funktioniert.

Die Aufnahme gef├Ąllt mir, allerdings h├Ątte ich den Schnitt vielleicht etwas anders gelegt. Evtl. h├Ątte ich die rechte, angeschnittene Bl├╝te ganz weggenommen... Geschmackssache.

Viele Gr├╝├če

Rolf

Around 10 years ago
Schmetterling: Startbereit
Da steht er und wartet auf den Einsatz - der Admiral ;-)

Interssante und gelungen Perspektive, Gl├╝ckwunsch!

Ciao

Rolf

Around 10 years ago
Verloren im Nebel!
Wieder eine tolle Stimmung eingefangen Bernhard. Super in s/w

Viele Gr├╝├če

Rolf

Around 10 years ago
Bedrohliche Wolken ...
Hallo Bernhard,

eine super Wolkenformation, richtig bedrohlich wirkt die.



Viele Gr├╝├če

Rolf



(Ich habe Probleme mit Deinem RSS-Feed. Mein Reader weigert sich, das Feed zu abonnieren. Es w├Ąre "invalid")

Around 10 years ago
Wolken ueber dem Attersee mit Blick auf die Drachenwand / Schafberg
Hallo Bernhard,

klasse Landschaftsaufnahme. An dem Schiffchen und den Häusern sieht man erst die Größenverhältnisse.

Ciao

Rolf.

Around 10 years ago
Achtung! Wespen ueber dir...
Einfach super!
Obwohl ich das bild evtl. um 180 Grad gedreht haette damit die Fliege nicht Kopf stehen muss.

Around 10 years ago
Es gibt sie doch... Au├čerirdische...
Super Bernhard. Du hast den Tipp in Fotomagazin 7 probiert? Das ist Dir jedenfalls sagenhaft gelungen!

Around 10 years ago
Gruen mit schwarzen Punkten und roten Augen
Ja, eine echt starke Aufnahme. Bestechende Schärfe.

Ciao

Rolf.

Around 10 years ago
Tot oder Lebendig?
Lebendig, der schläft ja nur.

Oder hast Du ihn bei der Gymnastik erwischt?

Tschuess

Rolf.

Around 10 years ago
Mit dem Kopf nach unten...
Ja, für eine Fliege kein Problem ;-)

Tolle Aufnahme Bernhard!

Viele Grüße

Rolf.

Around 10 years ago
Libelle in der Sonne sitzend... (2)
Top Aufnahmen Bernhard.

Beide Libellen hast Du super eingefangen.

Tschüss

Rolf.


Around 10 years ago
Leuchtende Sonnenblume
Hey, klasse Bildschnitt Bernhard. Und der kleine Besucher ist auch nicht zu übersehen.

Tschüss

Rolf.

Around 10 years ago
Hinter der Kirche werde ich untergehen...
Klasse, mal ein etwas anderer Sonnenuntergang. Und der Titel dazu passt auch.

Around 10 years ago
Ein kleiner Dinosaurier...
Der hat sich wohl verlaufen. Oder er wollte unbedingt auch mal ins Internet ;-)

Toll, mir gefällt der Schärfeverlauf.

Tschüss

Rolf.

Around 10 years ago
Im Regen sitzend...
Hallo Bernhard,

eine klasse Aufnahme, die Kröte trägt sogar noch eine Tannennadel mit sich rum ;-)



Du warst heute der letzte Besucher in meinem Fotoalbum. Vorhin habe ich mein neues Album / Blog von Pixelpost aktiviert und auch einige meiner aktuellsten Fotos übernommen. Natürlich auch Deinen Kommentar.



Viele Grüße und ein schönes Wochenende,

Rolf.

Around 10 years ago
Produktfotografie: ArmyTek - Predator und Viking X
Hallo Hummler, jedes Lichtbild unterliegt normalerweise dem Urheber, so auch dieses hier.

Around 6 years ago
Das Auge eines Jaegers #2...
If you are a mouse, I can agree with you ;)

Around 8 years ago
Technik und Industrie - Nettingsdorfer Papierfabrik
Thank you very much ;)

Around 9 years ago
Erfrischung gef├Ąllig?
That's fine ;)

Around 9 years ago
Erfrischung gef├Ąllig?
Hallo Nicki, danke f├╝r dein Kommentar und die kleine Anregung. Genau das selbe habe ich mir n├Ąmlich auch gedacht als ich das Bild hier auf dem Blog hochgeladen habe, dass die Dose frisch aus dem K├╝hlschrank h├Ątte sein sollen, bzgl. Tautr├Âpfchen ;)

Around 9 years ago
Wassertropfen auf einer Teetasse
Hallo Lothar, herzlichen Dank f├╝r das Kompliment. Du hast vollkommen recht, es waren sehr viele "Momente" notewendig, um endlich den richtigen zu erwischen ;)

Around 9 years ago
Geisterwald - Aufgeloest im Nebel...
Thank you all for your positive comments ;)

Around 9 years ago
Ich w├╝nsche euch allen Frohe Weihnachten und angenehme Feiertage!
Thank you very much ;)

Around 9 years ago
Gruen mit schwarzen Punkten und roten Augen
Hallo July,

vielen dank f├╝r deine Komplimente und ich w├╝nsch dir viel Spa├č beim fotografieren, dann werden die Bilder fast von alleine gut ;)

Around 9 years ago
Drohende Klaenge erfuellen den Raum...
Danke Werner, freut mich das es dir gef├Ąllt ;)

Around 9 years ago
Muttertag: Blumen, Geschenke und Ausfluege...
Hallo, nein ich benutze bei meinen Bildern keine Filter, aber bei diesem hier handelt es sich zum Beispiel um ein HDRI aus einer Belichtungsreihe von 3 Bildern.

Around 9 years ago
Ein experimentelles Farbenspiel...
Als ich in einem Experimentierbuch fuer Kinder gebl├Ątter habe, bin ich auf diesen "Versuch" mit Tinte und Zucker gesto├čen und mir gedacht, dass das interessante Fotos werden k├Ânnten ;)

Around 10 years ago
Eine Dusche aus Farben...
Now I have published a small making-of on my Webpage (german). You just need some colored ink, cold water and suggar ;)

Around 10 years ago
Eine Dusche aus Farben...
Thank you, it is just water with inc and some suggar ;)

But I hope i find some time to put a small "making-of" on my homepage.

Around 10 years ago
Geld, keiner hat es, jeder wills...
Hi, no its european money (EURO) :D

10, 50 and 100 ÔéČ (from left) and 5 ÔéČ in the background.

Around 10 years ago
Flammenwall: Eine Wand aus Flammen, ...
Sorry, but this is a bit to hard for me to undestand without speaking dutch :D

Around 10 years ago
Kreuz und quer im Sonnenuntergang
Herzlichen dank f├╝r deine WoW`s :)

Schade das du keinen link oder so von deinen Bildern hinterlassen hast, h├Ątten mich sehr interessiert.

Around 10 years ago
Das h├Âchste Geb├Ąude von ├ľsterreich - Millenium Tower (Wien)
Thank you very much!

Around 10 years ago
HDRI: Anfang oder Ende? Sonnenaufgang ├╝ber der UNO-City und dem Donauturm in Wien!
Thank you for the great compliment.

Around 10 years ago
Kannst du diesen Blicken wiederstehen?
Vielen Dank f├╝r die Komplimente ;)

Around 10 years ago
(H)DRI: Kreise, Kurven und Walzen?
Hallo Nicki,

erst einmal danke f├╝r den Kommentar. Es stimmt, es handelt sich hierbei um eine Stra├čenwalze die gerade ihr Wochenende genie├čen durfte, als ich vorbeigekommen bin. Und ja, mit HDR werden oft ganz simple Motive richtig interessant, aber nicht nur ;)

Around 10 years ago
Durch das Fenster auf Barcelona blickend...
Hi mario,

you are right, it was taken form Sagrada Familia ;)

Around 10 years ago
Wellen des Meeres...
Da hast du auch wieder vollkommen recht, Wasser darf etwas Bewegung zeigen. ;)

Around 10 years ago
Brennender Dornenbusch oder doch nur ein Sonnenaufgang?
Das macht den Profi aus, immer im richtigen Moment die Kamera dabei zu haben *g* Leider geht es mir auch oft so, dass ich mich ├Ąrgern muss, diese nicht dabei zu haben. Das hier ist ├╝briegends ein Sonnenaufgang und kein untergang ;)

Around 10 years ago
Wellen des Meeres...
thx mario for your critque, you are right, but it was realy hard with the camera i used in barcelona to make "good" images. I hope, next time I am visiting the town, I am not to shy to take my SLR with me. ;)

Around 10 years ago
Krokus im Regen
Hallo Rolf, danke. Ja es ist bestimmt Geschmackssache, nochdazu weil ich diese Bild glaub ich sogar mitn Kit-Objektiv gemacht habe und damit auch relativ an der Grenze f├╝r "Makros" war ;)

Around 10 years ago
Formen des Wasseres...
Thanks a lot. I hope i will find some time to make more pictures of waterdrops in the future.

Around 10 years ago
Wo bleibt der Wind?
Thank`s a lot, i will try my best ;)

Around 10 years ago
Insektenhotel: Solitaerbiene - Blattschneiderbiene \'Megachile centuncularis\' bei der Arbeit
Herzlichen Dank f├╝r deinen Kommentar. Ich hoff es ist dir aufgefallen, das nur sehr wenige Bilder auf dem Fotoblog auch wirklich mit dem 55-250 mm gemacht wurden, da ich dieses Obejktiv noch nicht sehr lange habe. Diese Bilder hier sind zum Beispiel mit einem 100 mm Makro augenommen worden.

Around 10 years ago
Schmetterling: Startbereit
Hallo Rolf,

ich wollt mich mal f├╝r die ganzen Kommentare auf meinem Blog bei dir bedanken.



├ťbriegends habe ich jetzt auch die "Antwort" funktion eingebaut und werde diese hiermit gleich bei dir austesten ;)

Around 10 years ago
Das Auge eines Jaegers #2...
When I lok into this eye I kinda feel like death is very near :-( scary.

Around 8 years ago
Kaefer - Grenzueberschreitung
Pretty cool way to show off different kinds of processing.

Around 8 years ago
Kristallwelten: Wunderbare Welten der Kristalle #2
Looks like something superman would be allergic to :-)

Around 8 years ago
Die Fliege #2
The middle one look almost like a X-ray, would make a nice crimescene shot ;-)

Around 8 years ago
Zwei Seiten einer Spinne ...
The processing done on this one is very cool! Very nice work!

Around 8 years ago
Blauen Passionsblume (Passiflora caerulea)
Nice split, and great sense of details, a little water always adds something intersting to a macro shot as this.

Around 8 years ago
Erfrischung gef├Ąllig?
And now I'm thirsty :-)

Around 9 years ago
Schwarz oder Wei├č - Hell oder Dunkel?
Nice lighting, it adds mystery but the subjects expression is just a little too bleak to make it really interesting.

Around 9 years ago
Ich w├╝nsche euch allen Frohe Weihnachten und angenehme Feiertage!
Seems like something straight out of a vampire movie, i would stay inside if the sky looked like this!

Around 9 years ago
Mit ausgebreiteten Fluegeln der Sonne entgegen...
Really nice one, perfectly placed focus just one the eye. Wonderful work.

Around 9 years ago
Eisenbahnlinie im Nebel...
Really well composed, and the mist/fog adds something very special to the atmosphere!

Around 9 years ago
(H)DRI: Kreise, Kurven und Walzen?
Wonderful symmetry!

Around 10 years ago
HDRI: Anfang oder Ende? Sonnenaufgang ├╝ber der UNO-City und dem Donauturm in Wien!
The colors and sharpness is really great! And the dark clouds really adds danger a drama to the image!

Around 10 years ago
Brennender Dornenbusch oder doch nur ein Sonnenaufgang?
Do clouds on a purple sky makes purple rain? ;-)

Around 10 years ago
Bedrohliche Wolken ...
Dramatic cloud formation are always a beautiful sight! Wonderful image!

Around 10 years ago
Sonnenaufgang ueber Wels...
Nice frame work, and beautiful colors!

Around 10 years ago
Libelle kurz vor dem Abheben...
Amazing macro, very detailed and sharp! beautiful shot!

Around 10 years ago
Eine Dusche aus Farben...
Wonderful abstract, would like to know how it was done :)

Around 10 years ago
Der Fruehling hat begonnen und rechtzeitig vor Ostern kehrt wieder Farbe ein.
Really beautiful colors and composition...very nice :)

Around 10 years ago
Zerbrochenes (Osterei)-Ei: Uebung macht den Meister
Beautiful colors and tones...I like it :)

Around 10 years ago
Geld, keiner hat es, jeder wills...
Nice detail, interesting composition :)

Around 10 years ago
Landschaften: Umrisse und Konturen im Nebel!
Beautiful tones here. Love the gently flowing composition :)

Around 10 years ago
Farben, Kontraste, Schwarz und Wei├č: Felder und ├äcker im Nebel mit Raureif ├╝berzogen!
Aaah!! This is brilliant...superb abstract. Great job :)

Around 10 years ago
Schnee: Schwere Lasten im Winter
Nice shot...with this dof its a wonderful abstract :)

Around 10 years ago
Klivie zum Valentinstag - Es gibt also doch noch Blumen
Lovely shot/shots. Love the split treatment :)

Around 10 years ago
Krokus im Regen
Cool shot...nice to see it again...had seen it a long time back in vazaar :)

Around 10 years ago
Makroaufnahmen im Winter: Eine Leiter aus Eis
Wow!! Love the detail...nice shot :)

Around 10 years ago
Wien: Brennende Stadt...
Awesome...love the execution :)

Around 10 years ago
Wien - Vereinte Nationen (UNO) | Die Welt in deiner Hand!
Fantastic composition, superb. Love this :)

Around 10 years ago
Prosit 2009 - Ich wuensche allen ein Gutes NEUES JAHR ! ! !
Wish you too a very Happy and Prosperous New Year :)

Around 10 years ago
Das h├Âchste Geb├Ąude von ├ľsterreich - Millenium Tower (Wien)
Almost monochromatic, almost abstract. Lovely shot, love the composition :)

Around 10 years ago
Ich w├╝nsche euch allen Frohe Weihnachten und einen guten Rutsch ins neue Jahr!!!
Stunning shot, love the light and composition. Very subtle hdr :)

Around 10 years ago
Spiegelungen in gelb und rot
Great job. An absolute stunner of a job. Love the composition and colors :)

Around 10 years ago
Zerbrochenes (Osterei)-Ei: Uebung macht den Meister
Funny picture and original! Like the viewable details and focus zone choose. Bravo.

Around 10 years ago
Farben, Kontraste, Schwarz und Wei├č: Felder und ├äcker im Nebel mit Raureif ├╝berzogen!
I ever like abstract shot and this one is successful. The horizon is awesome. Superbly composed. Bravo.

Around 10 years ago
Klivie zum Valentinstag - Es gibt also doch noch Blumen
Excellent montage! Perfect idea this cropping. Bravo. That gave some inspiration for future shoot.

Around 10 years ago
Makroaufnahmen im Winter: Eine Leiter aus Eis
WOW! I like all the textures viewable on the pic, the water on the forefront. Bravo.

Around 10 years ago
Flammenwall: Eine Wand aus Flammen, ...
In the flame the Moria mine! My LCD screen will melt in a fuming plastic...

Around 10 years ago
Wien - Vereinte Nationen (UNO) | Die Welt in deiner Hand!
Nice POV and graphic shot, near form abstract art! Like the curve provide by the building. Bravo.

Around 10 years ago
Ich w├╝nsche euch allen Frohe Weihnachten und einen guten Rutsch ins neue Jahr!!!
PERFECT! The color, the detail and the point of view were magnificent! Happy New Year and I wish to you a lot of exceptional photos.

Around 10 years ago
Spiegelungen in gelb und rot
Same for me, I don't understand what it is but stunning shot! The background makes this spot really mysterious. Bravo.

Around 10 years ago
HDRI: Anfang oder Ende? Sonnenaufgang ├╝ber der UNO-City und dem Donauturm in Wien!
.......WOW-WOW-WOW...... No more comment can be writing. It is more beautiful than the reality! The clouds gave to the common scene a magic touch. Bravo.

Around 10 years ago
(H)DRI: Kreise, Kurven und Walzen?
Wow! Good result and perfectly framed. Like all elements in this photo.

Around 10 years ago
HDRI: Ein grosses Wuerfelspiel oder doch nur ein Hochhaus in Wels?
Magnifique vue! Same from previous comments, like the color and tone provide by HDR. And outstanding exif precision...

Around 10 years ago
Brennender Dornenbusch oder doch nur ein Sonnenaufgang?
Magnifique. Great sunset color and tone. The black trees add a dramatic vision.

Around 10 years ago
Barcelona Wind- und Kitesurfen vor der Kueste
Bravo! Nice view for a classic shot. Really interesting background. I can feel the wind in my back...

Around 10 years ago
Feierabend am Feld - Der Sonne entgegen
Fantastique! Like this one! By the silhouette, I think is a Fiat tractor or Massey. Thanks to share.

Around 10 years ago
Kostbare Ware...
Ho! I like photos with many textures and color. This photo is one of my objectives. But I hesitate to bring my camera in supermarket (legal question).

Around 10 years ago
Insektenhotel: Solitaerbiene - Blattschneiderbiene \'Megachile centuncularis\' bei der Arbeit
Nice colors tone! I like it when we see the pollen particles over the bee corpse. Thanks.

Around 10 years ago
Eines von vielen?
Nice symmetry in pattern and then the blue and black dots divides the image!

Around 7 years ago
Mit ausgebreiteten Fluegeln der Sonne entgegen...
Great macro shot! Lovely bokeh and sharpness! Nice job on this one!

Around 9 years ago
Valentinstag: Die Blumen verstecken sich leider noch in Eis und Schnee!!
Great macro, colours and sharpness are excellent. Goos to see a macro of a "novel" object.

Around 10 years ago
(H)DRI: Kreise, Kurven und Walzen?
Very good use of HDR. The textures of the wheels are brought out well. The motif is well spotted using the colours and forms. Nice work.

Around 10 years ago
Nachdenklich...
You do not have a lot of people shots, but this one is lovely executed and had a very thoughtful atmosphere to it.

Around 10 years ago
HDRI: Ein grosses Wuerfelspiel oder doch nur ein Hochhaus in Wels?
Interesting symmetry and lines. A well executed HDR as well.

Around 10 years ago
Schienen: Nicht immer fuehrt der Weg direkt zum Ziel!
This is a great image. B&W silhouette is so difficult to make interesting, but the reflections in the tracks and "mess" of powerlines works really well.

Around 10 years ago
Durch das Fenster auf Barcelona blickend...
Creative framing that adds a great bonus to the skyline! We like the darkness created by the frame - brings out the light colors of the city!

Nice work!

Around 10 years ago
Brennender Dornenbusch oder doch nur ein Sonnenaufgang?
The dark almost black threes make a great silhouette in this frame, and the sky is truly amazing.

The color of purple....

Around 10 years ago
Es gibt sie doch... Au├čerirdische...
Fantastic. We have not yet used any of the focus stacking tools, but pictures like this makes us want to try.

Around 10 years ago
End of days...
That is just BEAUTIFUL!

Wonderful light and the blue tones is amazing.

Around 10 years ago
Krokus im Regen
Water drops can add such an interesting touch to it! Nice composition, like the simple and elegant way you let the color and water drops play together!


Around 10 years ago
Schmetterling: Startbereit
Wonderful image!

An unusual angle and it works so well.

Great details and sharpness.

Excellent job on this one!


Around 10 years ago
Weiss-Klee in der Wiese ein wenig anders...
Very nice. We like how the individual buds(?) float in space. Interesting us of (extremely) shallow DOF in macro.

Around 10 years ago
Bedrohliche Wolken ...
very dramatic clouds.

This would have been an interesting candidate for an HDR shot.

Around 10 years ago
Black Hawk Down - Libelle: Blaugr├╝ne Mosaikjungfer
We just love macro (both to watch and shot!) - it allows us to see how they really look like, all the detail that we normally canÔÇÖt see!

And what a coincidence - we posted a dragonfly today as well, but a living and smiling one!

This is a great macro - we like the way you captured it with plain white background, it gös well with the "atmosphere" of a dead dragonfly. Great DOF and strong colors.

Excellent work!

Around 10 years ago
Wilde Tiere: Nilkrokodil
Wie in Stein gehauen. Gepflegte Z├Ąhne hat er das muss man ihm lassen. Eine sch├Âne Nahaufnahme.

Around 9 years ago
Muttertag: Blumen, Geschenke und Ausfluege...
Zum Muttertag ein St├╝ck vom Gr├╝n. Aber zum Bild. Wirklich sch├Ân gelungen diese Tiefe der verschiedenen gr├╝n T├Âne. Besonders dieser helle Keil macht das Bild zu einem Ausdruckstarken Naturereignis.

Around 9 years ago
Flammenwall: Eine Wand aus Flammen, ...
Sehr sch├Ân eingefangen und passend zur Jahreszeit. Die Flammen sehen aus als h├Ątten sie einen Moment still gehalten, fast schon plastisch.

Around 10 years ago
Ich w├╝nsche euch allen Frohe Weihnachten und einen guten Rutsch ins neue Jahr!!!
Oha, ein Traum da kommt ja sofort Urlaubsstimmung auf. Grandios

Around 10 years ago
Prosit 2009 - Ich wuensche allen ein Gutes NEUES JAHR ! ! !
Ein Prosit und f├╝r 2009 immer ausreichend Licht w├╝nsche ich dir.

Around 10 years ago
Meine Diplomarbeit
Auch eine Diplomarbeit, auf die man pers├Ânlich Stolz sein kann und f├╝r jeden einzelnen ein eigenes Kunstwerk darstellt, kann auch fotografisch k├╝nstlerisch in Szene gesetzt werden.

Around 10 years ago
Wolken ueber dem Attersee mit Blick auf die Drachenwand / Schafberg
Schön gesehen, die Wolke über den Bergen macht sich wie ein eigenes Gebirge.

Around 10 years ago
Tote Baeume, toter Wald? Ist das erst der Anfang?
Eher bedrueckend und wachruettelnd, mahnend als schön. Passt wunderbar zur aktuellen Klimadiskussion.

Around 10 years ago
Im Regen sitzend...
Tolle Schärfe man könnte meinen sie springt gleich aus dem Monitor.

Around 10 years ago
Eine Hand voll Beeren
Eine schöne Macro Aufnahme, passt sehr gut zur Jahreszeit

Around 10 years ago
Das Auge eines Jaegers...
Wirklich toll das 100mm Objektiv. Denke jetzt kommen die "ganz großen" Macro aufnahmen. Freue mich schon.

Around 10 years ago
Wassertropfen am Huepfen...
Sehr schön gelungen, die Gegensätze kommen in Schwarz-weiß gut zur Geltung

Around 10 years ago